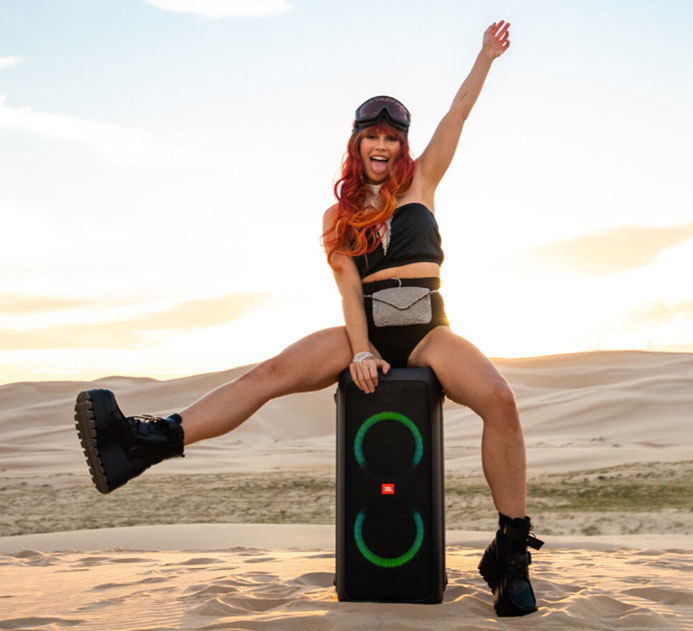 Undeniably captivating from the moment she enters the room, Tigerlily's electrifying stage presence and drive to transcend the traditional expectations of a DJ sees her in a league of her own. A true entertainer taking the world by storm.
Checkout DJ Tigerlily in action at the EPIC JBL Snow Party.
Feel the music for 96 hours of epic partying at 2300M altitude. A party in the sky... like no other!
Tigerlily's JBL Picks
Portable Bluetooth Speaker
{"thumbnailImageUrl":"https://www.jbl.com.au/dw/image/v2/AAUJ_PRD/on/demandware.static/-/Sites-masterCatalog_Harman/default/dwd701a65a/JBL_PULSE4_HERO_WHITE_001.jpg?sw=270&sh=330&sm=fit&sfrm=png","thumbnailImageUrl2":"https://www.jbl.com.au/dw/image/v2/AAUJ_PRD/on/demandware.static/-/Sites-masterCatalog_Harman/default/dwf6c30404/JBL_PULSE4_Back_White.jpg?sw=270&sh=330&sm=fit&sfrm=png","productUrl":"https://www.jbl.com.au/JBL+PULSE+4.html?dwvar_JBL%20PULSE%204_color=White-GLOBAL-Current","productSupportUrl":"","productID":"JBLPULSE4WHT","orderable":false,"availability":{"message":"","status":"NOT_AVAILABLE"},"price":{"unitLabel":"each","priceType":"standard","salesPrice":"$329.95"},"realprice":{"discountThresholdAmount":5,"salesPrice":"$329.95"},"badges":[],"buttonText":"Sold Out","showProdLimit":{"status":""},"vendorProductURLTiles":{"":"","vendorPDPRedirectEnabled":false},"CTAEnable":false,"commerceSiteFlag":true,"showPromoTimerFlag":false,"isProProd":false,"isCustomizable":false,"customizableVariantId":false,"isVarientCustomizable":false,"isComingSoon":false,"isRefurbished":false,"refurbOnSearchResult":true,"isSearchResultPage":false}

{"thumbnailImageUrl":"https://www.jbl.com.au/dw/image/v2/AAUJ_PRD/on/demandware.static/-/Sites-masterCatalog_Harman/default/dw6571b323/JBL_PULSE4_HERO_BLACK_005.jpg?sw=270&sh=330&sm=fit&sfrm=png","thumbnailImageUrl2":"https://www.jbl.com.au/dw/image/v2/AAUJ_PRD/on/demandware.static/-/Sites-masterCatalog_Harman/default/dwf0e8eb49/JBL_PULSE4_Front_Black_phone.jpg?sw=270&sh=330&sm=fit&sfrm=png","productUrl":"https://www.jbl.com.au/JBL+PULSE+4.html?dwvar_JBL%20PULSE%204_color=Black-GLOBAL-Current","productSupportUrl":"","productID":"JBLPULSE4BLK","orderable":false,"availability":{"message":"","status":"NOT_AVAILABLE"},"price":{"unitLabel":"each","priceType":"standard","salesPrice":"N/A"},"realprice":{"discountThresholdAmount":5,"salesPrice":"N/A"},"badges":[],"buttonText":"Sold Out","showProdLimit":{"status":""},"vendorProductURLTiles":{"":"","vendorPDPRedirectEnabled":false},"CTAEnable":false,"commerceSiteFlag":true,"showPromoTimerFlag":false,"isProProd":false,"isCustomizable":false,"customizableVariantId":false,"isVarientCustomizable":false,"isComingSoon":false,"isRefurbished":false,"refurbOnSearchResult":true,"isSearchResultPage":false}