Would you like to have your music in the shower? Or do you want to listen to a podcast in the bath? Then put a speaker in the bathroom or take your speaker with you into the shower! But make sure that your speaker can handle it. Find out how to choose the best waterproof Bluetooth speaker for your bathroom; we have compiled the most important features below.
How waterproof should my speaker be?
Water is obviously the worst thing that can happen to an electronic device (just ask the person whose iPhone fell in the toilet!). Fortunately, there are now waterproof speakers. Of course, there are degrees of how waterproof something really is. This is indicated by the IP code. IP stands for 'international protection rating'. This also indicates how dustproof a device is. So you can easily find out the minimum protection you want by checking the speaker's IP code.
An IP code consists of 2 digits. The first digit stands for dustproof, and the second digit stands for waterproof. The higher the number, the better the score. See the scale below.
IP code and meaning
Dustproofness IP-X

Waterproofness IPX-

Code

Meaning

Code

Meaning

IP0x

No protection

IPx0

No protection

IP1x

Large particles. Protected against penetration by particles larger than 50 mm

IPx1

Splash-proof type 1 - No damage in case of drops of water falling vertically

IP2x

Medium-sized particles. Protected against penetration by particles larger than 12.5 mm

IPx2

Splash-proof type 2 - No damage in case of drops falling at an angle

IP3x

Small particles. Protected against the penetration of particles larger than 2.5 mm

IPx3

Spray-proof

IP4x

Sharp objects. Protected against penetration by particles larger than 1mm

IPx4

Splashproof from any direction

IP5x

Dust protection. The housing is completely sealed. Not 100% protection but enough not to impede operation.

IPx5

Watertight

IP6x

Dustproof. Fully protected against dust.

IPx6

Water-resistant

IPx7

Immersion-proof

IPx8

Waterproof

IPx9

Waterproof against high-temperature water
We recommend a minimum water resistance of 7 for a bathroom speaker. This ensures that if your speaker falls into the water (and it is quickly removed), it will still work. A water resistance of 8 or higher means you can take your speakers into the shower - they are completely waterproof!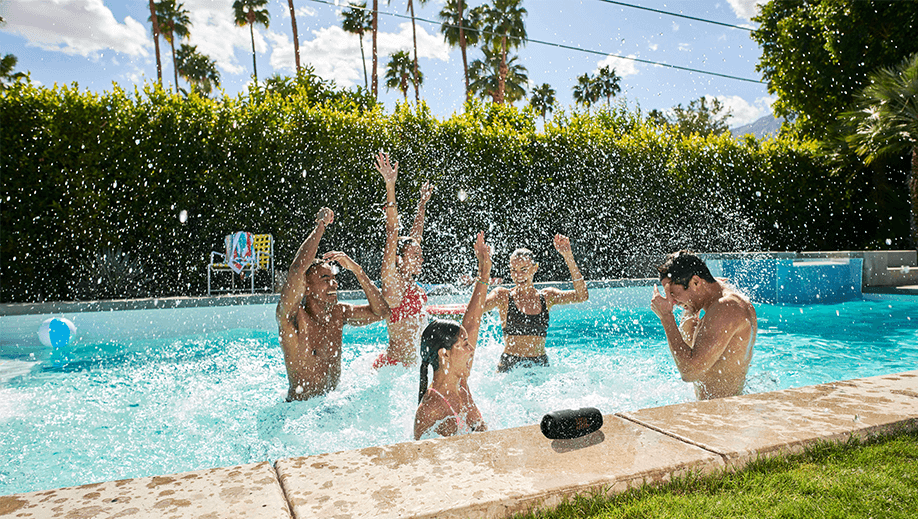 How big should the battery be?
In the middle of a vocal solo, your speaker stops working. Sound familiar? With a long battery life, this will never happen again. Battery life of a few hours is handy so that you don't have to recharge every time you use the waterproof Bluetooth speaker. All JBL's waterproof speakers have a battery life of 5 hours or more - long enough for you to get wrinkly when you take a bath.
Top tip: Charge your speaker once a week. That way, it's ready to go every day!
Voice control for your speaker? Pretty nifty!
Can't find a good song? Podcasts getting a bit long-winded? Next! With voice command for your speaker, all you have to do is say what you want. It's also easy to adjust the volume, and of course, it's completely dry because you don't touch it. All JBL smart speakers have this feature.
These smart speakers are also very easy to connect and pair with other speakers in your home. JBL smart speakers all use Google Assistant and are therefore easy to operate without touching them.
Pairing options: Bluetooth or Wifi?
How you stream your music to the speaker matters. Do you want a Bluetooth bathroom speaker or a Wifi bathroom speaker? Both ways of streaming are suitable. Fair is fair: if you already have a Wifi speaker, then it is a useful addition to have another Wifi speaker because you can easily connect them. But a separate Bluetooth speaker that can also be used in other parts of the house is also very handy. Would you like to be able to use both Bluetooth and Wifi in one speaker? Then check out our JBL Link!
Would you like to know all the advantages and disadvantages of streaming via Bluetooth and Wifi? Read all the features of Wifi vs Bluetooth here.
Built-in or not built-in speakers?
Built-in speakers are of course great. However, they have a big disadvantage. They can't keep up with the times and are stuck in your ceiling or wall. So if you built in the speakers a few years ago and now have Wifi speakers all over your house, your bathroom speaker will not be connected to them.
So it might be more convenient to buy a separate speaker for the bathroom that has the latest features and is easily replaceable when you want to upgrade.
Lifespan: Getting the most out of your bathroom speaker
There is water and there is moisture. Moisture is much more stubborn than water. If you just let your speaker dry after some water splashes, you risk moisture getting into your speaker (depending on the IP code of your speaker of course!). So always dry your Bathroom speaker properly after getting it wet - even if it is waterproof. That way, it will last for years to come.