What is DAB+?
DAB stands for Digital Audio Broadcasting. So basically, it is just digitally transmitted sound. This is different to FM, for example, which is sound that is transmitted via radio waves, and you can adjust it to suit your location. The range of DAB is much wider, and because it is digitally transmitted, the quality is also better. Because it does not use radio waves, there is no noise. This means that even in the remotest corner of the country, you will have crystal-clear sound.
How does DAB+ work?
As mentioned, DAB is digitally transmitted sound. As it doesn't use radio waves, it can be regarded as a broadcast channel, just like on your TV. A DAB+ radio is a receiver for these channels. It lets you switch between radio stations instead of having to scan for the exact wavelength (FM) that matches your location.
In order to use DAB technology, you need a suitable radio. All JBL DAB+ radio speakers have this technology. And these radios can do so much more.
Many models also work as alarm clock radios and Bluetooth speakers.
What are the advantages of DAB+?
Apart from the pristine sound and long range, a DAB tuner has more advantages. Here's a list of them:
Sound quality is higher than FM radio.
A DAB tuner can often also be used as an alarm clock radio and Bluetooth speaker.
With a DAB radio, you can receive all radio stations, and you are no longer dependent on good reception. Many modern radio stations are also switching to DAB. So you can no longer receive them via an FM radio.
You can switch channels easily! All available stations are in a handy alphabetical list. So you can quickly switch between the different stations.
With a DAB tuner, you can receive more information about the music you are listening to. It is possible to add songs, artists and album covers to the signal. So you know exactly who you are listening to!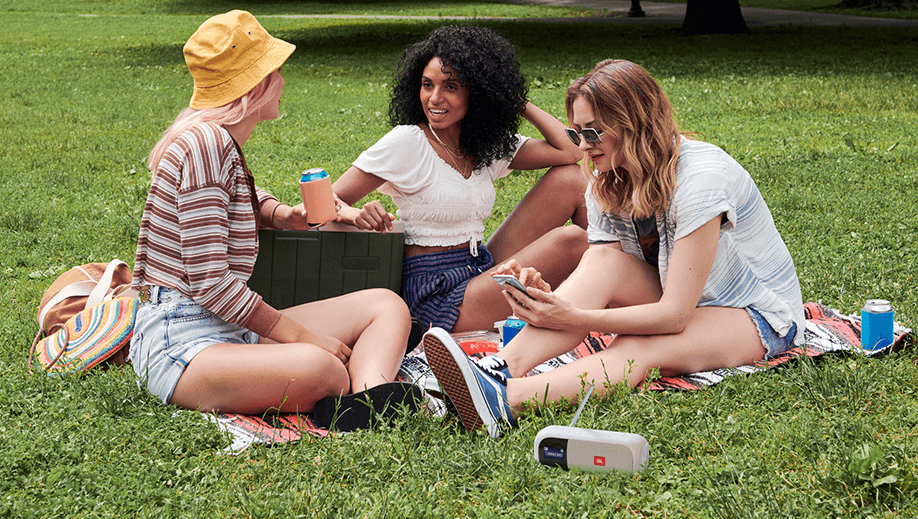 Getting connected
Connecting to a DAB radio is done in several ways. Most models are equipped with a special DAB receiver. This receiver picks up digital radio signals from the air, and the radio stations just appear. You don't need an internet connection for this.
Extra features of a DAB+ radio
A DAB radio is not just a device for listening to radio stations. Most tuners have many more features. Here's a list:
Bluetooth
Many DAB devices are equipped with Bluetooth. So you can also use the Bluetooth radio as a speaker by connecting it to your phone or tablet. This means that you can not only listen to radio stations, but also your playlists on Spotify or Apple Music.
Connecting DAB+ to your sound system
Want the crystal-clear sound of DAB radio but played through your large home system? That's no problem. Many DAB tuners also have an audio output. Just connect the DAB receiver to your sound system and listen to crystal-clear digital radio stations with your own familiar system.
Internal memory
Most DAB radios have an internal memory. This function allows you to save some of your favorite radio stations. Think of it as a kind of shortcut, allowing you to switch between your favorite stations quickly. Most tuners also have a handy display that tells you exactly which station you're listening to. You'll also find additional track information here.
Clock radio
Would you like to be woken up by the radio every morning? Then get a DAB tuner with a clock radio. Many DAB radios have this option. With it, you can wake up to great radio tunes, entertainment and the early morning news.
Radio on demand
Some DAB radios even offer the option of recording sound clips. So you can listen to a particular radio program when it suits you. And if you missed an important program without having recorded it, pause and rewind are possible with some models. You won't miss a thing!