Whether it's Call of Duty, Fortnite, Red Dead Redemption, or something more under the radar, choosing the right gaming headset can make all the difference to your performance. A headset with the right sound quality, microphone, and comfort can enhance your gameplay - fully immersing you and bringing every explosion, wheel screech, and action command to life. From wireless to noise-cancelling headphones, here's our quick guide to everything you need to know about finding the
best gaming headset
.
What are gaming headphones?
For the untrained, gaming and everyday headphones might look and sound more or less the same. However, key differences lie within the overall quality and headphone capabilities. Most noticeably, gaming headsets always have a mic attached so players can easily communicate with teammates and be at the ready. This addition of a built-in mic also helps minimise any extra cables and devices that can get in the way of intense gaming sessions. With game length easily sneaking into the hours, it's essential to make sure your headset is specifically designed for long-wearing use. All
JBL Quantum
over-ear headsets are designed with lightweight headbands and soft memory foam ear cushions to maximize comfort, no matter the hour or score. Overall sound quality also plays an essential part when considering which headset is best. Gaming headsets offer different capabilities to everyday headphones, typically designed and engineered to focus on creating a full, surround sound experience. Gaming headsets, such as the
JBL Quantum ONE
and
JBL Quantum 800
also offer active noise cancellation (ANC) to ensure gamers are fully immersed in the world, whether that's on a battlefield, racetrack, or soccer match.
Are Bluetooth headsets good for gaming?
Bluetooth gaming headsets can offer a great range of benefits for your gaming session. Naturally, you won't have to worry about cords getting in the way while you play. But this design also gives you the option to get up and move around while you wait in the lobby or in between games, so you can continue chatting with friends as you grab a drink (or answer the door to receive your Uber eats!). It's important to make sure your headset has a strong enough transmitter for the fast-paced world of gaming, which can mean lagging and latency during gameplay. And of course, any kind of wireless headset will require charging or battery swapping. However, you'll need to be careful to charge your headset before or after use to ensure it doesn't drop out in the middle of a match.
Wireless gaming headsets can also be a good option
A wireless gaming headset offers the same benefits as traditional wired headphones and Bluetooth options – minimal hassle around wires, and greater flexibility as you move around between games. But wireless and Bluetooth headphones do have some key differences. By design, all Bluetooth headphones are wireless and use short-range radio waves to connect to your console. However, some wireless options do not run on Bluetooth technology and can use anything from radio frequency, infrared, internal memory, or even KleerNet. Radiofrequency is one of the more common non-Bluetooth wireless headset options, which you will see marked as 'RF'. The benefits of this kind of software mean that it still transmits through walls if you walk out of the room, and there is minimal audio compression, which removes the risk of lagging (and improves the sound quality overall). Another real benefit here is its long battery life, giving gamers an option for a wireless headset without having to worry about regular charging.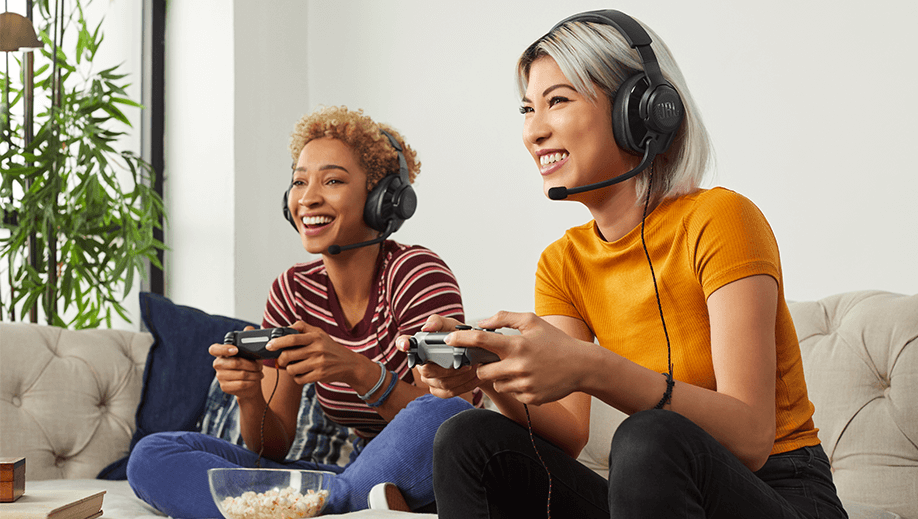 JBL Top picks for gaming headphones
Overall, choosing a gaming headset comes down to what you deem most important during your gaming session. What is a must-have? What is a nice-to-have? And how much is your budget?. Here are a few of our top picks for each kind:
Best entry-level headset
JBL Quantum 100
: An affordable, great all-rounder that offers memory foam comfort, a directional boom mic, and multi-platform connectivity.
Best Bluetooth headset
JBL Quantum 810
: An exceptional Bluetooth 5.0 dual wireless headset with a lossless 2.4Ghz connection and up to 14-hours of battery life for all-night gaming marathons.
Best wireless gaming headset
JBL Quantum 610
: A streamlined, comfortable headset with a lossless 2.4GHz connection that uses multi-channel audio for incredible surround sound.
Best overall gaming headset
JBL Quantum One
: A professional gaming headset with head-tracking for next-gen accuracy audio positioning, noise cancellation, customisation, and a detachable mic.