Noise-cancelling headphones have changed the game when it comes to headphones. As well as playing your favourite music or podcast, they can diminish or erase the sounds around you. They have become increasingly popular due to their incredible features, especially as so many Australian workers have switched to noisy at-home offices. Find out more about
noise-cancelling headphones
how they work, and what to look for when you make a purchase.
What are noise-cancelling headphones?
Noise-cancelling headphones have a built-in capability of minimising or completely negating the noises around you. Instead of just muffling the sounds to dull them, as you would find with a set of earmuffs, noise-cancelling headphones actively work to reduce external noises. Importantly, noise-cancelling headphones also work as regular headphones. They don't just cancel external noises – they also play music and podcasts, and can function as a headset for work with an in-built microphone in some models. That's why they've become such a popular option. They work both ways to ensure you can listen to the audio of your choice without having to turn it up to full volume to hear it over the sounds in the background.
The difference between active and passive noise cancelling
Active noise cancellation is the technology described above, where microphones and speakers work together to reduce or remove background noises. It was originally only found in larger over-the-ear headphones that could contain the hardware required for the technology, but newer models have made it possible for active noise-cancelling technology to be built into in-ear headphones. Passive noise cancelling works differently. This uses specially designed hardware such as ear cups and seals to simply seal out the background noise. A little like earmuffs, this essentially inhibits the sound waves from reaching your eardrums. It is not usually as effective as active noise cancellation but certainly has its benefits.
Are there any disadvantages of noise-cancelling?
There are a few disadvantages or drawbacks to noise-cancelling technology. The first is that noise-cancelling headphones typically come at a higher price point than standard headphones. This is due to the additional technology and hardware built into the set, but it can be well worth it for someone who needs to cancel out the background noise in their environment to work, sleep, concentrate or relax. The second drawback is that this technology is not perfect (at least, not yet). Noise-cancelling headphones work best when the sound source is consistent, such as that you would hear from a busy motorway nearby, or the hum of a plane's engines. The technology doesn't handle abrupt noises nearly as well, as it cannot predict which sound waves it will need to invert. Finally, noise-cancelling headphones require more power than standard headphones. This means that if you are looking for a wireless headset, you may need to charge it or change the batteries more often.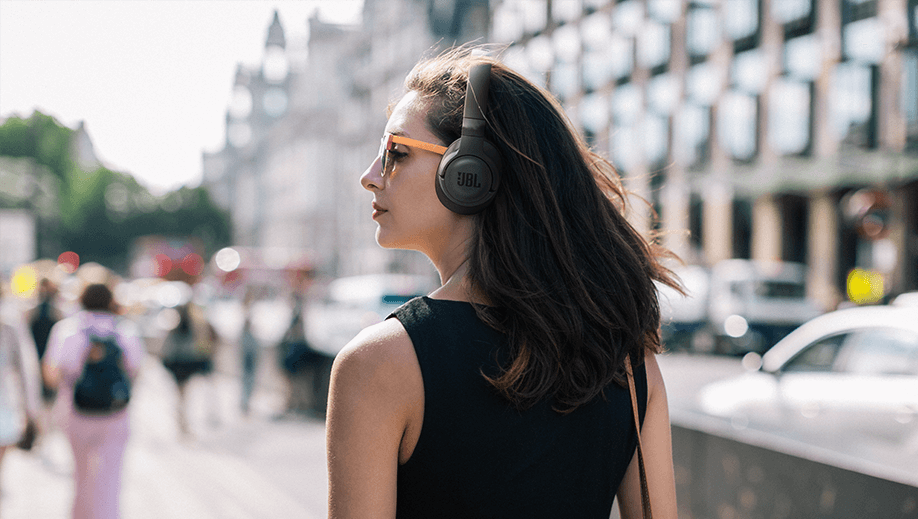 How to choose the best noise-cancelling headphones
Choosing the best noise-cancelling headphones for you will depend on your preferences and your budget. Most people have a preference for either in-ear or over-the-ear headsets, so that's the easiest place to begin narrowing down your search. For an entry-level set of wireless noise-cancellation headphones, look for a model such as the
JBL Live 460NC
Enjoy exceptional sound with JBL Signature Sound, and easy hands-free calls. This headset offers active noise cancellation (ANC) for up to 40 hours, or 50 hours of battery life with ANC switched off. For more advanced over-the-ear wireless noise-cancellation headphones, the
JBL Tour One
could be the perfect fit. This cutting-edge headset includes True Adaptive Noise Cancelling, which automatically adjusts to the change in the environment in real-time. It also offers JBL Pro Sound for a premium, rich audio experience, and four-mic technology for clear voice calls. Advances in noise-cancelling technology have made it possible to create in-ear models, such as the
JBL Tune 230NC TWS
This model could be a great option for someone looking for an affordable, practical set of noise-cancelling earbuds that can also take calls and handle up to eight hours of use when ANC is engaged. For top-of-the-line in-ear noise-cancelling headphones, the
JBL Live Free NC+ TWS
model is an excellent option. This pair packs a punch for its size with 6.8mm dynamic drivers, and come with TalkThru and Ambient Aware technology, which allows you to carry out a conversation in person without needing to switch off the noise-cancelling feature. You can use just one earbud at a time while charging the other, and they come with a high waterproof rating of IPX7 for perfect functionality rain or shine.