Headphones have become as widely used and relied upon as our smartphones these days, and it's common for someone to wear them every day for everything from Zoom meetings, to listening to music while exercising, to catching up on their favourite shows.

Yet for something we rely on so much and use every day, cleaning our headphones is not usually at the top of the priority list.

If that sounds like you, here's a little more about why we should clean our headphones and earphones regularly, what you'll need to do the job, and how to clean earphones and headphones without damaging them.
Why is it important to clean your earphones?
Headphones and earphones might not obviously look dirty, but you can just about guarantee that they need to be cleaned.

That's because by wearing them in or on your ears, they will accumulate ear wax, sebum from your skin, dead skin cells, and any kind of product on your face or around your hair (from sunscreen to make-up to hair spray), as well as dust and dirt whenever you put them down or leave them in a pocket.

That's a lot of dirt to build up, but even though it's not always visually clear, it can still have negative effects.

For one, wearing something with that much bacteria and dirt in your ear can cause a harmful reaction. It could be a rash, allergic reaction, or even a painful ear infection that requires antibiotics to treat.

It's also important because cleaning your earphones and headphones can help them to last longer, and maintain the high-quality sound.
The must-have items to clean headphones
To clean your headphones or earphones, you'll need a number of basic cleaning supplies. Fortunately, you probably already have everything you need in the house, or can pick them up at any chemist.

Here's what you'll need:

· A micro-fibre cloth
· Cotton buds (Q-tips)
· Hand soap
· A toothbrush
· Paper towels/tissue
· Rubbing alcohol
· A toothpick
· Warm water

You may be able to make do without some of these items depending on your style of headphones or earphones and how dirty they are, but they are good to have on hand in case you need them.
Step-by-step guide to clean your headphones
For standard, over-the-ear headphones, follow these steps.
· Expand the headband as far as it can go (so you can reach all parts)
· Remove the earpads
· Use a soft cloth with warm soapy water to wipe away any visible dirt all grime from all over the headphones
· Dampen a clean cloth or paper towel with rubbing alcohol to gently wipe down all surfaces
· Wet a cotton bud with rubbing alcohol and use it to clean all the hard-to-reach areas and in cracks
· Don't forget to wipe down any cables with your dampened cloth
· Allow your headphones to dry, and look over them again for any dirt or grime
For in-ear earphones, follow these steps:
· Remove any silicone or soft coverings, and gently clean them separately with a cotton bud
· Use a damp cloth with warm soapy water to wipe down the drivers (buds), removing dirt and grime
· If you can see any earwax or dirt in the mesh, use a toothpick to gently remove it
· Dampen a clean cloth or paper towel with rubbing alcohol to gently wipe down all surfaces
· Use a cotton bud dipped in rubbing alcohol to get any hard-to-reach areas
· Let the earbuds dry completely before use
Keep in mind, you never want to use a fully wet cloth to clean your headphones. It should be just damp, which will clean away grime without damaging the drivers. You can also be extra careful by facing the drivers down when you clean them to help ensure water doesn't drop inside the earphones.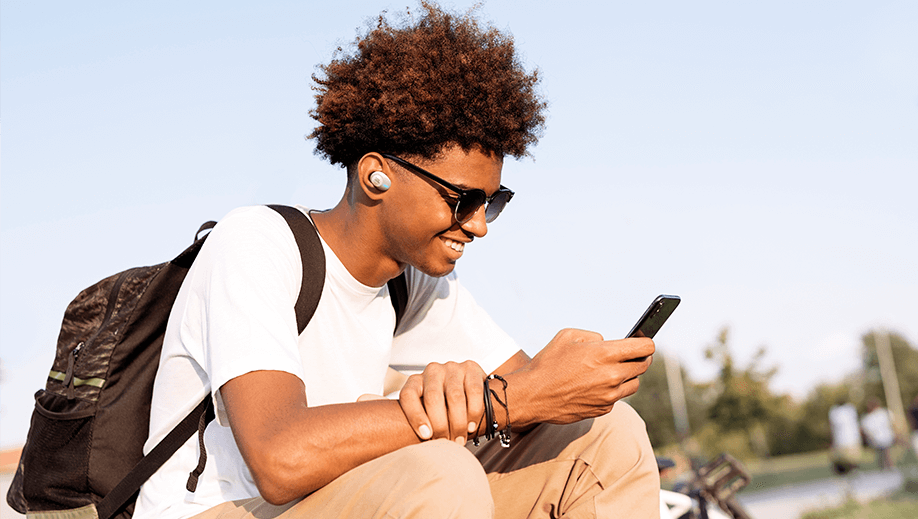 Cleaning tips for over-the-ear headphones
Over-the-ear headphones can vary greatly, so the best option is usually to find the instruction manual that came with your model and read the cleaning instructions.

Modern headphones are designed with easy, convenient cleaning in mind, so there should be step-by-step instructions readily available that will avoid potential damage to your set.

Take extra care to clean the areas you touch the most, and consider doing a small test patch with rubbing alcohol if you are concerned about damaging the fabric.

A toothbrush will help you to get into any cracks or difficult areas and can be softer than a toothpick to avoid piercing any delicate areas.
Cleaning tips for in-ear headphones
You have to be especially careful about cleaning in-ear headphones and wireless earphones, as the fact that they go inside your ear means they can pick up more earwax and grime, and also increase the likelihood of an ear infection.

For in-ear headphones, don't forget to also clean the case, which can also store grime, ear wax, and bacteria. A toothbrush and cotton bud are often the best tools for this job, as they can get into tough-to-reach places.

And if you often wear your earbuds during exercise or training where they might get sweaty, don't forget to give them a quick wipe after you're done, and give them a few minutes to dry outside their case before putting them back in, as warmth and moisture can help bacteria to grow.