Wireless headphones have been popular from the moment they were released, but now as more and more phone brands remove the headphone jack, wireless is becoming a necessity as well.

Without cords to tangle, break, and get in the way, wireless headphones are one of those items that simply make sense. We're so often listening to music and podcasts, chatting to friends, and watching videos, that wireless headphones have become an essential daily product.

So here's a little more about how they work, which types are available, and how to choose the best style of headphones to suit your needs and lifestyle.
How do wireless headphones work?
In a nutshell, wireless headphones work by receiving a transmitted signal from a paired source of audio – usually your phone or laptop.

Your phone (or other audio source) will encode signals, then transmit those signals via radio frequencies (although some headphones use infrared), which your headphones will pick up and decode again into the audio you listen to.

Bluetooth is the most commonly used wireless technology, and this also operates on short-wave radio frequencies. All Bluetooth operates on a band between 2.400 to 2.485 GHz, which means there are almost 80 different frequencies over which a source can transmit signals to a Bluetooth receiving device – that's how you can have numerous Bluetooth connections (or headsets) running in the same home without them interfering with each other.

Fortunately, all of this happens in a tiny fraction of a second, offering flawless music and audio playing options straight into your headphones.
Types of wireless headphones
Wireless headphones have been burgeoning over the past couple of decades, which has created a wealth of modern headphone types and designs.

The main ones to be aware of when you're shopping for a new set are on-ear and over-ear wireless headphones, and wireless earbuds.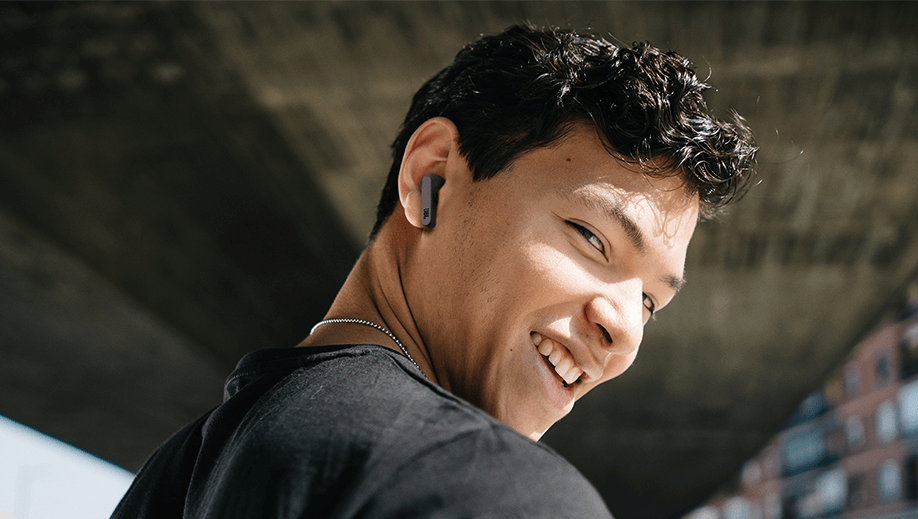 Types of wireless headphones
There are three types of wireless Bluetooth headphones. On-ear and over-ear wireless Bluetooth headphones and (in-ear) wireless earbuds. In addition, all variants are also available as special sport headphones.
On-ear and over-ear wireless headphones
On-ear headphones and over-ear headphones often get confused, as they do look reasonably similar. Both are the traditional style of large headphones that have ear pads that sit on or over your ears.

However, on-ear wireless headphones such as the JBL Live 460NC have ear pads that sit directly against your ears. They have quite small ear cups, which means the set itself is usually smaller, more compact, and easy to carry or travel with. The main appeal of this style of headphone is usually that they offer the style, comfort, and stability of traditional headphones, without being so bulky.

On the other hand, over-ear wireless headphones such as the JBL Tune 760NC also have their own benefits. Some people may find that when the cups sit over your ears, rather than directly against them as with on-ear headphones, that over-ear headphones are therefore more comfortable for long periods of wear.

But the biggest benefit of the over-ear style is that it can provide better passive noise-cancellation and better sound quality by creating a better seal around your ears.
Wireless earbuds (and True Wireless)
Wireless earbuds are the kind that sit in your ear. They are very small and lightweight, making them easy to use on the move, and take with you everywhere you go.

However, there is a difference between wireless and true wireless earbuds.

Wireless earbuds are still connected between the two buds, usually with a small wire that loops around the back of your head. This kind tends to be more affordable and may offer more features than the typical true wireless earphone, but many people still prefer this style as they are a little harder to lose. For example, the JBL Tune 125BT offers a fantastic wireless experience with JBL Pure Bass Sound, 16 hours of battery life, and voice assistant support.

True wireless earbuds, such as the JBL Tune 130NC TWS are super compact, without a wire connecting between each earbud. Many people love this style for how small they are, and for the lack of a wire that could get damaged or tangled more easily.
Wireless headphones for your lifestyle
So which style is best for your needs?

Over-ear wireless headphones are usually best for use at home, giving you premium comfort and sound quality for long periods of use. And since you won't need to take them anywhere regularly, their size won't be an issue.

On-ear wireless headphones are great for work and travel. They offer a happy middle ground between the full-sized traditional over-ear headphones and small lightweight models, with excellent sound quality and comfort.

Wireless earbuds are a popular option for sports and exercise, putting your favourite music in your ears without worrying that you'll lose your earbuds should one fall out or get lost in your gym bag. By being attached, they offer an added layer of security.

True wireless earbuds are the all-round go-to for everything in between. Since they travel so well, they're ideal for taking on trips, taking calls at the shops, listening to podcasts while out doing the gardening, and so much more.