As soon as the first rays of sunshine appear, we all like to sit outside and enjoy the sun. With a drink in your hand, you can sit in your garden, in a park, on the beach or on a terrace. And what makes such moments even more enjoyable? The right music, of course! That's why a good speaker is really important. Here's how to choose the best speaker for enjoying music outdoors all summer long.
Dustproof and water resistant - it's a must!
Water is obviously the worst thing that can happen to an electronic device, and dust is not very good for them either. Outdoors there is a risk of both. You can easily tell if the speaker you want is suitable for outdoor use by looking at its IP rating.
IP stands for 'international protection rating' and indicates how well a device can resist dust or water. An IP code consists of 2 numbers. The first digit stands for dustproofness and the second digit stands for waterproofness. The higher the number, the better the rating. See the scale below.
IP-code and meaning:
Dustproofness IP-X

Waterproofness IPX-

Code

Meaning

Code

Meaning

IP0x

No protection

IPx0

No protection

IP1x

Large particles. Protected against penetration by particles larger than 50 mm

IPx1

Splash-proof type 1 - No damage in case of drops of water falling vertically

IP2x

Medium-sized particles. Protected against penetration by particles larger than 12.5 mm

IPx2

Splash-proof type 2 - No damage in case of drops falling at an angle

IP3x

Small particles. Protected against the penetration of particles larger than 2.5 mm

IPx3

Spray-proof

IP4x

Sharp objects. Protected against penetration by particles larger than 1mm

IPx4

Splashproof from any direction

IP5x

Dust protection. The housing is completely sealed. Not 100% protection but enough not to impede operation.

IPx5

Watertight

IP6x

Dustproof. Fully protected against dust.

IPx6

Water-resistant

IPx7

Immersion-proof

IPx8

Waterproof

IPx9

Waterproof against high-temperature water
For an outdoor speaker that doesn't need looking after, it is best to have a waterproof rating of at least 6 and dust protection of at least 5. If you are near a swimming pool, a higher waterproof rating may also be useful.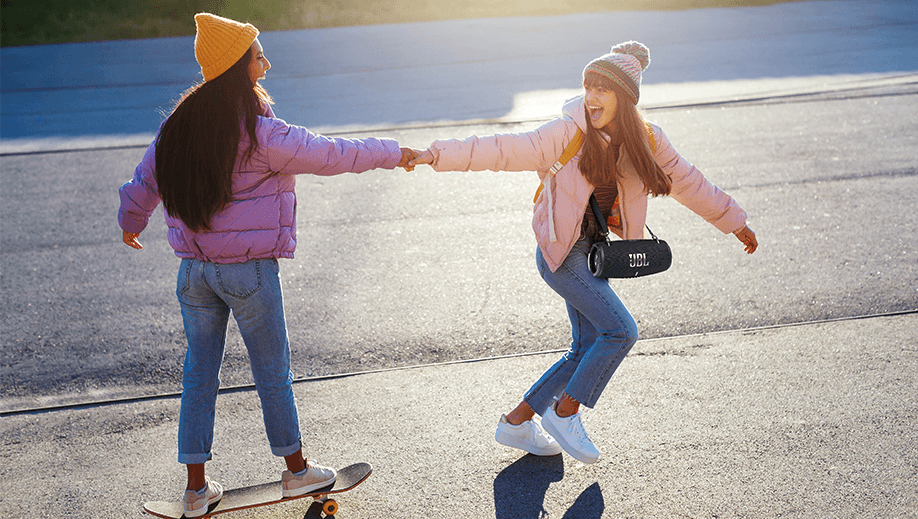 Robust design and size
If you are going to take your speaker to the park, to the beach or on a boat, it is important that it can withstand rough handling. Obviously, fragile materials are not suitable for this purpose.
Also, check if the speaker is easy to carry. You may want a speaker that is small and fits easily in a bag or a speaker that is large but does not weigh a ton.
Battery life
Endless summer evenings with great music are made possible by powerful batteries. Battery life of a few hours is fine for a picnic, but if you're going to be hanging out until late, then you'd be better going for a battery life of 10+ hours.
Wifi or Bluetooth speakers?
Wireless outdoor speakers are the easiest to use. But what is the best way to listen to your music?
Bluetooth is by far the easiest and sometimes the only way to listen to music outdoors! For Wifi, you need a Wifi network to which your phone and speaker are connected; this often takes about 10 minutes, whereas Bluetooth connects with just a push of a button.
If you want a speaker for use in your backyard and your Wifi signal is strong, then you can choose a Wifi speaker!
Tip: Bluetooth does use up some extra battery from your phone so take a powerbank with you!
Need more help with your choice?
If you're finding it hard to decide what speaker suits your needs, check out our help section. You'll also find an 'Outdoor use' section where you can easily compare our speakers!